Contact us
Company address:

ul. Wołoska 22
02-675 Warszawa
tel.: +48 22 646 22 77
faks: +48 22 646 29 29
e-mail: biuro@rada.pl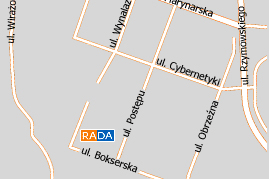 Warehouse:

ul. Bokserska 64
02-690 Warszawa
tel.: +48 22 853 53 73
faks: +48 22 853 53 72
e-mail: magazyn@rada.pl
RADA sp. z o.o. sp.j., seat: ul. Wołoska 22, 02-675 Warsaw, Poland, VAT numer
(NIP) 521-044-70-52, registered by the District Court for the Capital City of Warsaw,
13th Economic Division of the National Court Register, entry no. KRS 0000017196.
Career
You want to join the team of our specialists?

Who Chose Us?